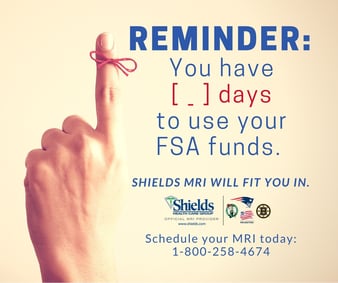 Many annual deductibles, flexible spending, health savings and overall insurance benefits renew at the end of December. If your doctor has recommended an MRI, don't wait to schedule the appointment.
Here are three reasons to schedule your MRI now:
Problems Can Worsen
The first reason is the most important: your health! Your health issues can worsen if they are not identified and treatment is not delayed. By delaying your doctor-recommended MRI, you are risking more extensive (and expensive!) treatment down the road. What may be pain now, could potential turn worse with continued aggravation.
Deductible
The deductible is the amount of money that you must pay for your health care out of pocket before your insurance company will pay for any services. This fee varies from one plan to another and could be higher if you choose an out-of-network MRI provider. Your deductible also starts again when your plan rolls over.
Losing FSA Benefit Dollars
If you participate in a Flexible Spending Account (FSA) through your employer's plan, time to use those dollars may be running out. Some plans require the money that is contributed to the plan to be spent by December 31, or you risk losing it.
WHY SHIELDS FOR AN MRI?
Shields Health Care Group accepts FSA & HSA funds for payment. In addition to providing the highest-quality MRI at an average of 60% less than other hospitals, Shields also offers financing options such as payment plans and Care Credit for all patients who need assistance. Shields MRI has a network of more than 25 locations throughout Massachusetts and one in New Hampshire. Choose a location close to you: http://shields.com/find-location/