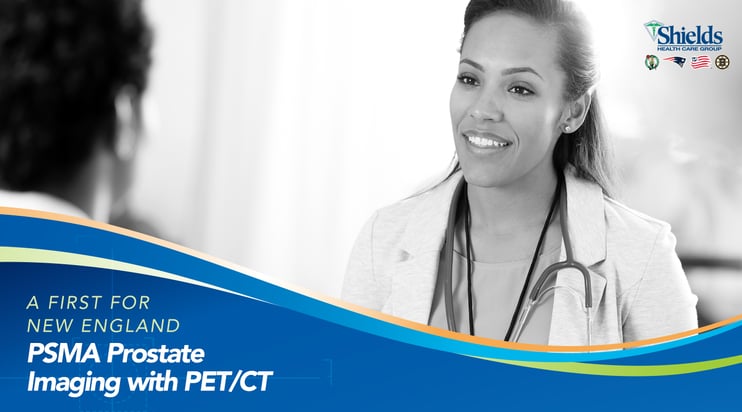 Frequently Asked Questions about PSMA Prostate Imaging with PET/CT
Currently, due to insurance regulations, Shields is able to accept referrals for PSMA prostate imaging with PET/CT, but payments are not standardized and may result in self-pay fees in some cases. Insurance is changing as more information about PSMA imaging becomes available. For the most up-to-date information, contact our PET/CT customer care team at 1-800-258-4674.
We hope this FAQ is a helpful guide!
Is PSMA covered by insurance?
We are now accepting Harvard Pilgrim, Blue Cross (Massachusetts), and Anthem BC (Maine) referrals with standard policy coverage.
We are also able to take referrals for Medicare patients (both commercial and Medicare advantage plans). Medicare allows providers to seek payment from the patient for uncovered services (PSMA may or may not be covered). Medicare works through an Advance Benefits Notification (ABN) of non-coverage.
What will the patient billing experience look like?
Before a patient's scan, Shields will explain that their insurance may not cover the cost of the test (in part or full) and the remaining bill will be their responsibility.
The patient will be expected to sign one of the forms acknowledging this has been explained and that they wish to proceed, regardless.
Shields will take a form of payment and charge the full rate prior to the exam.
Any collections from their insurance will be refunded to the patient.
The patient has the option to not sign and to decline the scan. AXUMIN will be an option but not the choice.
If a patient declines to pay the fee, what are their options?
The patient has the option to not sign and to decline the scan. AXUMIN will be an option – not the choice. If this occurs, our PET/CT team will contact you and provide an updated status on your patient's choice.
Will PSMA ever be covered by insurance?
Shields and our partners are actively working with the insurance companies to add this and other new isotopes, and we anticipate that this process will greatly improve. The industry itself expects PSMA imaging to be approved in early 2022.
---
PET/CT is proud to lead the way, bringing advanced PSMA imaging to your patients. Our experienced clinical team works with you to improve the treatment, care, and outcomes for intermediate- and high-risk prostate cancer.
If you have any questions, please feel free to contact us at 1-800-258-4674.