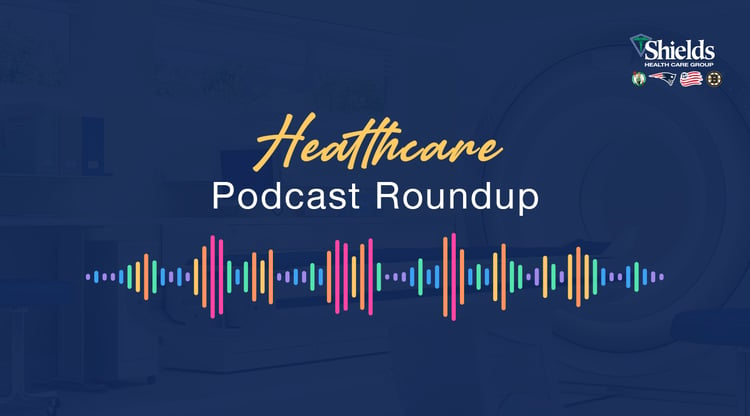 Looking for something to catch up on during your morning commute, but don't want to listen to the news? Check out some of the most popular podcasts in the medical world that highlight healthcare topics and understand more about what we do here at Shields.

To start it out, we have the MR iCast, a compilation of MR imaging, challenges and solutions presented when working with patients of all ages and diagnoses. The episodes to date are pretty traditional in the content they review.
We'd love to see them explore some of the more cutting-edge technology available like the introduction of artificial intelligence in MRI, the use of icobrain for Multiple Sclerosis or the benefits of MRI for crohn's disease vs. the standard approach of CT. With that in mind, perhaps our radiology team could guest host an episode?!
The hosts consist of Radiologists, MDs, MRI educational consultants and other specialty focused professionals.The plethora of guest speakers expresses the importance of mixed opinions and educational backgrounds, and these are more hefty in length and conversation, diving in deep to the weekly topic, such as Cardiac MRIs or patient screening.
How to Fix the Hot Mess of U.S. Healthcare
"The challenge that makes it hard to address is that there are pockets of amazing care and amazing innovation surrounded by a sea of disfunction"
We loved this one because it focuses on a topic that we see everyday: value. It's a constant topic in healthcare, but the needle is moving very little - and even less so in Massachusetts.
Stephen J Dubner and guest doctors address the evolution of medicine from a calling to an industry, discussing the downfalls of the US spending trillions on health care, and turning around healthcare reform by thinking small and making minor changes. Some of the discussions include financial toxicity surrounding patient care, clarifying language encompassing healthcare and some ways to save by utilizing services offered outside of hospitals.
–
Another one of our partners, Melrose Wakefield Health, has a channel called The Healthy Podcast, detailing everything from Robotic Surgery to Back Pain to Healthy Eating. These short clips provide a berth of information on the designated topic such as radiology or nutrition, sharing information for patients and specialized doctors alike.
We love all their podcasts, one we recommend here is Acid Reflux and GERD with Drs. Clark and Blau. Dr. Clark is a gastroenterologist who also happens to perform surgery at Shields Surgery Center in Medford.
–
Dr. Scott Sigman, is the founder of a podcast called The Ortho Show. He created this in the peak of the pandemic in order to introduce orthopedics telehealth, and has his own hashtag, #followthefro !
Not only do we enjoy working with Dr. Sigman here at Shields, but we also appreciate his very humorous and approachable host personality, making his podcast understandable and fun for his listeners ... He mainly provides useful information in terms of pre and post op care for knee replacements and shoulder repairs.
–
Do you listen to any podcasts related to the ones above, or know of one that others would be interested in? Should we start a podcast here at Shields? What do you think? Let us know by sending a message, or tag us on social media!
---
Shields is committed to creating the best experience possible, providing our patients with comfort and the best quality care. Check out our website to find the location closest to you, and to learn more about our commitment to patient service.
https://shields.com/find-location/
---