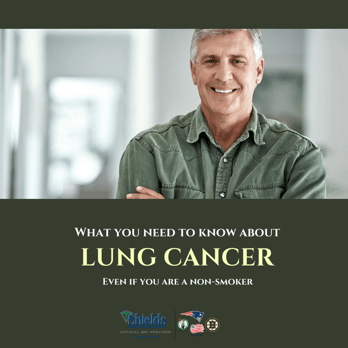 One of the most common misconceptions about lung cancer is that you can get it only if you smoke or used to smoke. However, the American Cancer Society states that as many as 20% of the people who die from lung cancer in the United States every year have never smoked or used any other form of tobacco. Lung cancer is the leading cause of cancer deaths in both men and women.
It is expected that in 2017 there will be:
About 222,500 new cases of lung cancer (116,990 in men and 105,510 in women)
About 155,870 deaths from lung cancer (84,590 in men and 71,280 in women)
Though lung cancer is not typically considered a "male disease," it is true that more men than women contract the disease. Roughly 1 in 14 men will be diagnosed with lung cancer, while 1 in 17 women will be.
So what should you know?
Anyone can get lung cancer.
As mentioned previously, nearly 20% of those who die from lung cancer in the U.S. have never smoked or used any form of tobacco. This equates to approximately 30,000 lung cancer deaths of nonsmokers in 2017. There are several risk factors that contribute to these cancer diagnoses, including but not limited to radon gas exposure, secondhand smoke exposure, and air pollution.
Symptoms may be hard to spot or nonexistent early on.
Early-stage lung cancer often doesn't show symptoms. It is typically only later on that symptoms appear. The key symptom is "smoker's cough" or a chronic cough that does not go away or gets worse, and that may result in bloody or rust-colored sputum (phlegm). Other symptoms may include:
Hoarseness
Wheezing
Frequent shortness of breath
Chest pain that gets worse with deep breathing, coughing, or laughing
Bone pain
Headache
Unexpected weight loss or loss of appetite
There are different types of lung cancer.
There are three main types of lung cancer:
Non-Small Cell Lung Cancer
Also known as NSCLC, this is the most common type of lung cancer; roughly 80% to 85% of all lung cancers are non-small cell cancer. This is commonly found in current or former smokers.
Small Cell Lung Cancer
Also known as oat cell cancer, this affects 10% to 15% of those diagnosed with lung cancer. This is a fast-spreading cancer.
Lung Carcinoid tumor
Only roughly 5% of those diagnosed with lung cancer have this type. This tends to be a slower-growing tumor that rarely spreads.
Screening
PET/CT (positron emission tomography/computed tomography) is the most common method of screening for lung cancer. It combines PET's ability to detect changes in cell activity with the fine structural detail that CT scans provide. This technology enables your physician to detect the presence of disease earlier and to pinpoint its location with much greater accuracy than PET or CT scans alone, enabling a more targeted treatment.
Shields Health Care has several locations throughout New England that offer PET/CT services.
Boston
Brockton
Fitchburg
Framingham
Harwich
Lewiston, Maine
Newburyport
Northampton
North Attleboro
Pittsfield
Sandwich
South Weymouth
Springfield
Wells, Maine
Worcester
SOURCES:
https://www.cancer.org/cancer/non-small-cell-lung-cancer/detection-diagnosis-staging/how-diagnosed.html
https://www.cancer.org/latest-news/why-lung-cancer-strikes-nonsmokers.html
https://health.usnews.com/health-news/patient-advice/slideshows/7-things-you-didnt-know-about-lung-cancer
https://www.healthline.com/health/lung-cancer-basics#overview1
https://www.cancer.org/cancer/lung-cancer/prevention-and-early-detection/signs-and-symptoms.html
https://www.cancercenter.com/lung-cancer/pet-ct-scan/