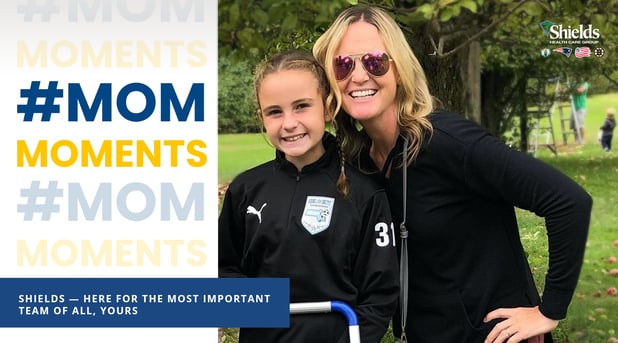 Moms are the quarterback of their family and keeping their team safe is the most important job of all. That's why we're so glad to hear from mom's with stories like Lyndsay, and are pleased to be able to honor their experience as we celebrate #MomMoments this May.

Camryn Picard, 11, had been experiencing chronic headaches for about six months with pain in front of her head and behind her eyes at levels that spanned from mild to painful. An avid soccer player and typical school-aged kid, it didn't really affect her day to day life and her pediatrician had no reason for concern.
However, the pain level of her migraines began to increase and her parents became very concerned, especially when they became severe and were accompanied by vomiting, dizzy spells and vertigo in bed over a two week period. Camryn's doctor advised that she get an MRI scan.
"When my daughter was suffering from chronic migraines I was told she needed an MRI. I was also told the appointment wouldn't be for weeks. I didn't want to see her suffer any more than she had to. I called Shields MRI and they got her in next day." said Camryn's mom, Lyndsay Picard.
As a parent, when your child is sick or in pain and you have no answers, waiting any amount of time is so hard. Shields care team worked with the Picard family and their local physician to get Camryn's MRI scan authorized by their insurance and then found a center in our network that was close to their home and had availability that very next day.
Lyndsay shared, "Not only did they get her in the next day they also provided results the day after that! As scary as MRIs can be, they made it such a pleasant experience for her. They had her pick out special "kid" music and were so kind and comforting. A few years down the road when my other child needed an MRI after a knee injury I didn't think twice, I called up shields and scheduled with them. They got her in the same day! It's probably one of the cleanest offices I've ever stepped foot in and the only place I would go for an MRI for myself and my family."
These types of stories make the team at Shields smile. Moms know best: it's not just the medical results that matter, it's the whole experience from the ease of making the appointment to the special touches during the scan to the fast turnaround time. Moms are the quarterback of their family and keeping their team safe is the most important job of all. We're proud to recognize Lyndsay and her #MomMoment this May.
---